Discussion Starter
•
#1
•
Hello, here up for trade i got my super nasty Blue w/ black accents Warped Sportz Dark Shocker. As some of you may know, this is a repost from my previous thread. This thing has EVERY up possible, and this thing rips serious faces.
PICS: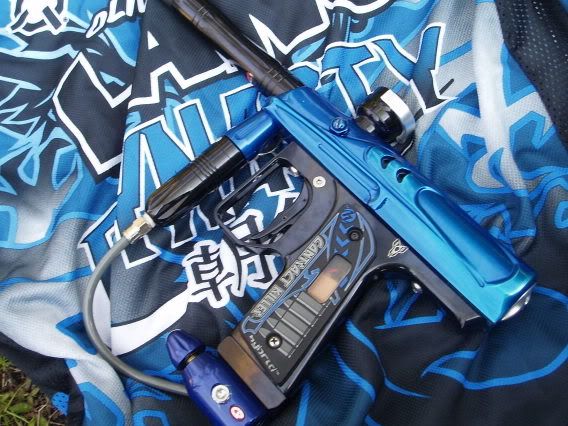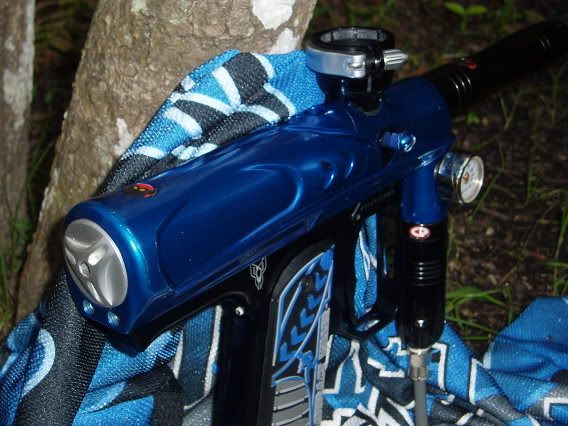 The UP's on this beast is:
-Blue Dark shocker (#417)
-VIRTUE board (if you dont know what it is, click the link. basically, the ONLY board you will ever need)
-Black CCM Frame (BEST frame on the market)
-Black CCM Trigger (I'll sum it up in 1 word...SICK)
-NDZ Ported Manifold
-Hybrid Contract Killer grips (LCD cutout because they are coooool)
-Black SP HE bolt (gets around 1400-1500 off a fill)
-Dynasty bolt guide (you CANT buy this thing in stores)
-Kila Ball Detents (BEST in the game)
-Black SP Q-lock
-Black CP Reg
-Blue CP 2k5 ON/OFF (BEST in the game)
-Black CP Rail
-Custom Anno'd Lucky 15 barrel (.691 bore, gloss black to dust black, althought we might be keeping barrels)
-Stright SP Vert. ASA w/ gauge (blue w/ black gauge)
-Shocker O-ring kit (enough to build the gun 10 times)
-
Video of gun RIPPING
The gun has ALL of the jewels on it. Just like all Smart Parts guns, the anno is slightly wearing in the back. There is only 1 scratch on the gun, and its about 1/11 of an inch thick (if you dont know how small that is, find a ruler) and about 1/8 of an inch long, not even that noticable. Also, i dont have any stock parts. I sold them all in order to raise more money.
TRADES: NONE WHATSOEVER
PRICE: 800 shipped/paypal'd! Add a 68/4500 LP Pure Energy (w/ black redz cover and thread protector) tank and a Blue Halo w/ Z-code and rip drive for an extra 175!
MY Rules:
1. Just like everyone says, I DONT SHIP FIRST. I have 2+ pages of feedback in sig with a few gun deals. If you want to do a 3rd party, i dont have a problem with that, but it will be with someone in the middle of our locations. (ex. If you live in NY and i live in FL, I'm not 3rd partying with someone in Cali, would just take WAY too long).
2. If you are an illegal alien of this country, dont offer.
3. If you dont have mommy and daddys permission to buy, dont offer.
4. I take Paypal and MO's.
5. If we make a deal and you back out, I WILL leave bad feedback.
6. Post here first, I'll contact you.
7. If you post, MAKE SURE you are ready to deal. DONT offer if you dont have the money IN YOUR HAND.
8. NO Flaming, dont have anything positive to say, dont post.
Thanks for looking!
Jordan