2003 red to black lasoya
VIDEO!!
http://www.youtube.com/watch?v=RlfWml8TwFI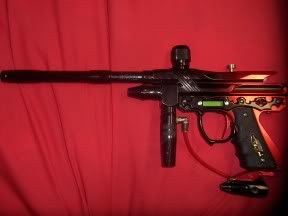 specs:
14 inch Bob Long Assasins Barrell
twist lock feedneck
torpedo reg
shocktech #2 drop
Shocktech on/off
CP Roller Trigger
Frenzy 110 Board
Dye Micro Gauge
New eyes (seen less than a case)
"agg" red macro line (for all you fashonable ballers)
Price: 300 shipped OMG! this is a steal!
paypal or money order only
IM NOT TAKING TRADES ANMORE. DONT WASTE YOUR TIME. CASH ONLY!
Post first, then send me a pm with your offer. I will get back to you within the next day unless it says other wise in my thread.