Discussion Starter
•
#1
•
My First Paintball Marker - a $20 Flea Market Special!

Now that I seem to be getting a handle on what this darn thing IS, I find it interesting that people still USE this model - and some of you who know a LOT more about this than I do actually LIKE it!

FYI I've been a "Gun Crank" and shooter near all my adult life - and that's been a while since I'll be 61 in August. How many of us old gaffers have you got in here?

About any kind of "gun" will get my interest, and these paintball rigs are no exception. As a Civil War Reenactor, I tried to "invent" a paintball musket so as to combine the two sports - although I guess "Living History" is more of an "obsession" than a "sport" per se. Knowing Zip to little about PB technology I never really got the project off the ground, but had an eye out for a marker in order to get a handle on the system. What I really wanted was a cheap or busted one that I could tear apart to see what makes it "tick".

The other day I checked out a local "flea market" which is typically packed jam full of JUNK, and noticed a marker sitting on top of a pile. I was attracted to it's solid metal construction, and tight "feel" of the action.

The proprietor - about my vintage - said it was his Son's and he wanted $25 for it. He also had a box of 1000 (or so he claimed) paintballs for the same price. It rattled when I gently shook it suggesting that at least some of them are still intact.

After perusing the rest of the collection, I offered him $40 cash (out of my "gun money") for both and he accepted it.

The only indication of it's type was "SL-68 II" cast into the left side:

....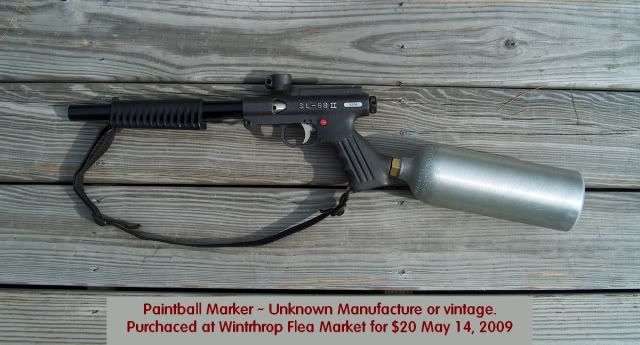 It seems to be in pretty good shape overall:

...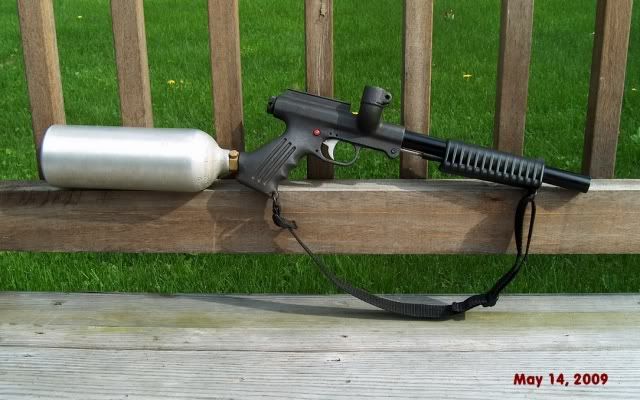 ..


.........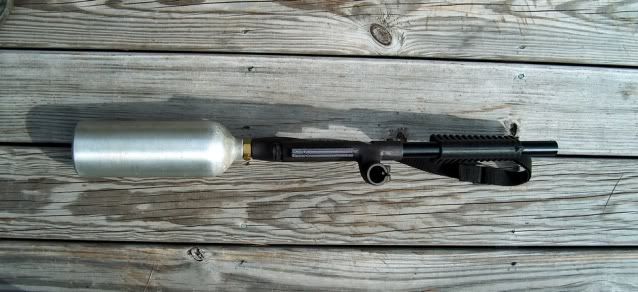 The only marker I've shot was one that my Nephews brought over for a family picnic one day. The rocks, trees, and even my mailbox (those rascals!) were all splattered with bright green paint for some time thereafter. They were shooting right out over a ravine where some neighbors live in a trailer (when I wasn't looking, of course) and I'm amazed that they didn't get a few splats too.

Since the tank seems to be empty, where can I get it refilled?
We have an air compressor that will crank out at least 120# - is there any way that I can get an adaptor to pressurize the tank with air?
Given my vintage and general state of decrepitation, I don't anticipate running many intense PB courses, but I would like to fool around with it.

Where can I get a manual or parts diagram so that I can properly maintain / repair / field strip & adjust it?

Thanks 4 your suggestions in advance.