Discussion Starter
•
#1
•
Since my last post baout this comp Ive upgraded the comp slightly...and added a ton of proggies...I can still wipe it clean if you wish.
Anyways:
A friend of mine's brother moved in and bought a new computer (this one) a week or so later he moved out and told my friend (his younger brother) that he could keep it. My friend not having internet access never used it. So one day we were sitting there...slighty drunk and I said "hey you still have chris's computer" he said "yea, Ill sell it to ya". I did this because my comp was in the shop being upgraded, turns out I got it back a few days later, I wiped the 4550 clean and re-installed windows XP with all the updates and patches and such, all the drivers are updated as well.
Link to review:
http://www.pcworld.com/reviews/article/0,aid,110181,00.asp
120gig HD
128 ATI Radeon 9700 TX
2.67 ghz Pent. 4
512MB of RAM
Also have the 17" thin flat panel monitor
mouse/keyboard etc
Lexmark all-in-one Lexmark X6150 still in the box or (Lexmark all-in-one X75 [in pic])
Since then Ive got:
Windows XP Pro
Adobe Photoshop CS w/ tons of brushes/fonts/plugins
Adobe Illustrator CS
Adobe Imageready CS
Macromedia Dreamweaver MX
MAcromedia Fireworks MX
Macromedia Flash MX
Ive also upgraded it to:
eVGA GeForce 6800 VideoCard 128MBDDR AGP 8X TV Out&DVI
Terratec Aureon 5.1 USB MKII
Pics: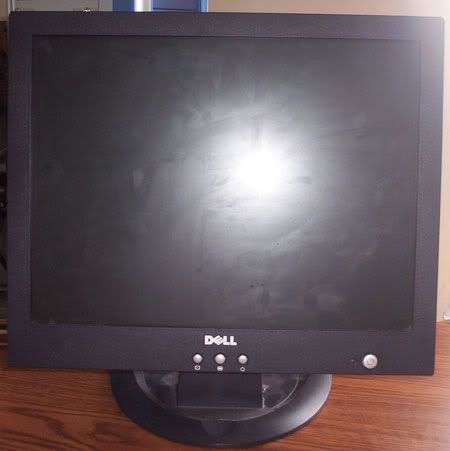 This is by far one of the fastest and best computers Ive ever booted up, I hate to get rid of it. But mines just a little better, and has tons of important files or Id keep this one.
Id like to get a little more out of it now...looking for around 650 with the ups and proggies...I can wipe clean if you wish and drop the price to 600. Id like to look into trades as well...Up'd Ions=way to my heart...or high ends, or even low ends+cash...