Discussion Starter
•
#1
•
best way to reach me is text or call.Price fully adjustable 903-736-5130 Ron .I can ship this priority mail today.I have almost 1000 feedback in an ebay store if needed and plenty of good feedback on other forums if need reference.
I have a 14" stiffi carbon fiber barrel with cocker threads used very little
The Stiffi Barrel is made from advanced Aerospace Materials – Carbon Fiber. <br>• At 53 grams (under 2 ounces) Stiffi Barrels are 3 to 7 times lighter than Metal Barrels. <br>• The Stiffi is the only All Carbon Fiber barrel on the market. bullet Stiffi's MicroJeweled bore creates a hi-tech polymer glass- like finish giving you unparalleled accuracy. <br>• All one-piece Stiffi Barrels have a Stepped Bore. <br>• Proven to be one of the Quietest barrels on the market. <br>• Zero co-efficient of Thermal Expansion Will not expand and contract with temperature changes, giving you consistent accuracy. <br>• One of the Most Accurate barrels in the game . <br>• Gram-for-gram the Stiffest Barrel on the market.
I would like 55 shipped obo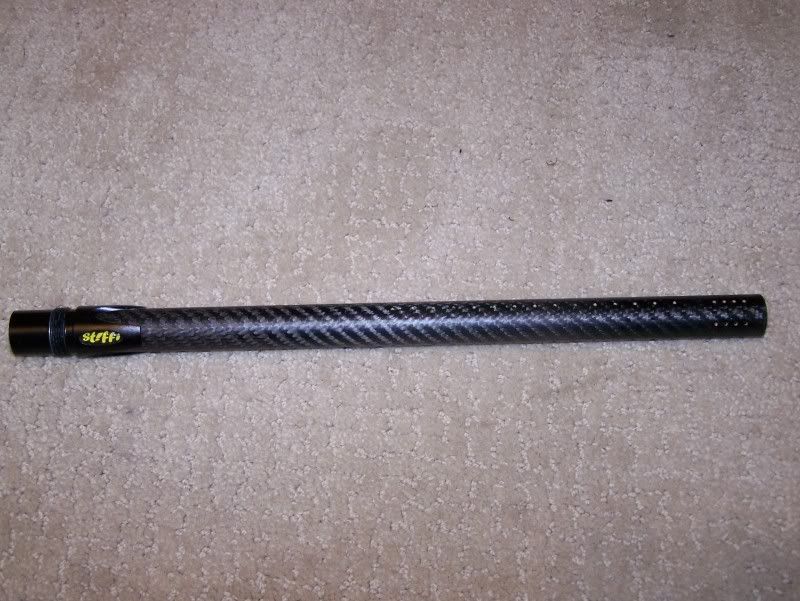 I also have a slightly used guerrilla air compressed air tank. It was born 04/09 and is a 5 year tank so it has plenty of life left.
I would like 150 shipped obo. If you want both i will do 190 shipped obo
Featuring Myth Regulator with MICRO Technology
* DOT/TC Approved
* 5 Year Hydro Test
* Most Compact
* Lowest Profile
* Lightest Weight
* 1200 Shot Count *varies by gun
* Volume: 68cu in / 1.11 liter
* Cylinder + regulator weight: 2.16lb / 0.98kg
* Service pressure: 4500 psi / 310 Bar
* Length: 9.25 in. including regulator
* Diameter: 4.42 in.
* Output Pressure - 600-650psi*