Discussion Starter
•
#1
•
Well I found out that I wouldn't be able to get into the military until my epilepsy is cleared up, so I figure'd I'd try to be an engineer. Well with a program called Alibre express I have begun to design a new suv.
Everything doesn't look perfect, but considering everything was built from a 2 dimensional drawing, done from ideas in my head, i think it's pretty good for my first go at it.
Basics of the vehicle: Wheels are 22''s. Truck is about 170 inches long, about 60 inches tall and 72 inches wide. The subs are 12", and the speakers in the door are 6.5"s. If i can get accurate illustrations I'll finish designing the motor and transmission, which this truck will sport a nifty little supercharged v12 and a 6 speed manual so eat ur heart out lightning.
this is the basic frame

the sub box that will be built into the truck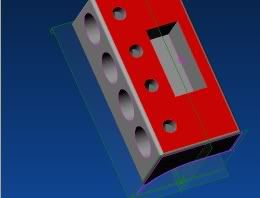 the subs that go into the sub box.