Discussion Starter
·
#1
·
I've been working on this for a little while but it finally in functional form. I have a few cosmetic things left but you'll get the idea.
The box by itself, It clips in exactly as a mag would.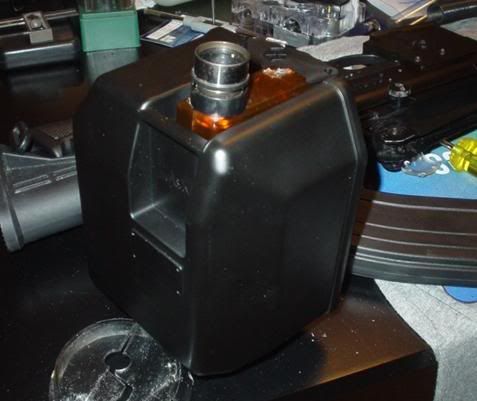 Mocked up final assembly.
Here is a short video of the box firing.
This was doomed from the word go. I got to my buddy's and realized I was out of air. He had some CO2 left so I gave it a shot and got about 150 rounds out of it, just enough for the video. It couldn't have been more than 50 degrees out either. Then add the old paint that started to break. The velocity was low and right at the end you can hear the tank run empty. Given the circumstances it went ok, a few barrel breaks is easy to clean. I'll make another video when I get some air and fresh paint but the box keeps up just fine.