Reason :
To reduce the friction between the Hammer and the body, this then increase the rate of fire(some what) and the performance of the gun
Notice:
Be sure to read and understand the instructions be for attempting this on your gun
Picts are from my 98c so Newer 98s will very slightly in the appearance of the shells and if yours has the ACT system be careful of the holes for the two small pins.
Tools/Supplies Needed
320 Grit Sand Paper
600 Grit Sand Paper
Machine Oil
Non-gell Tooth Paste (Optional) :sly:
Screwdriver ( IF you have the RT installed)
The Alen Keys that came with the gun or matching Sizes
Clean Rag (Things are going to get dirty)
Instructions
Disassemble the gun and remove every thing from the body shells even the power tube and RT piston.


With the rag clean out all dirt and paint from the shell halves
Now before go on I will be using the right shell as an example for polishing the shells
Here is the unpolished right shell



Tippmann does a good job casting the shells but they are fairly rough.
Now put a few drops of oil on the back half behind were the powertube would be.
Take the 320 Grit paper and start to sand to remove most of the bige scratches



You want to work on the area were the seer rests and the "trougth" that the hammer travels in.
Wipe oil and grit off the shell
Repeat Steps 6-7 with the 600 grit sand paper
At this point the shell should look like this and feel smooth to the touch.


This next step is optional
Put some tooth paste on you finger and rub down the "trought" a few time and be sure to get all of the tooth paste cleaned out of the shell
Now we will Polish the Hammer
Remove the O-Ring from the Hammer and put it in a safe place (Safer then you pocket)
Clean the hammer as you did the shells
Put a few drops of oil on the hammer
Lightly sand with the 320 grit paper
Here is a comparison of a half sanded hammer (top has been sanded).


Clean the Oil and grit off the hammer
Repeat steps 15-17 with the 600 grit sand papper
Optional: do a final Polish with the tooth paste like you did on the shells
Clean the parts one more time to besure that all the grit and dirt has been removed
Reasemble your 98 and enjoy your more efficient and better preforming gun
An other option that i did not show is how to polish the sides of the seer.
Feel free to post any improvments, questions, or comments that you may have.
EDIT:
Here is a good picture of when i finished mine withjust the sand paper.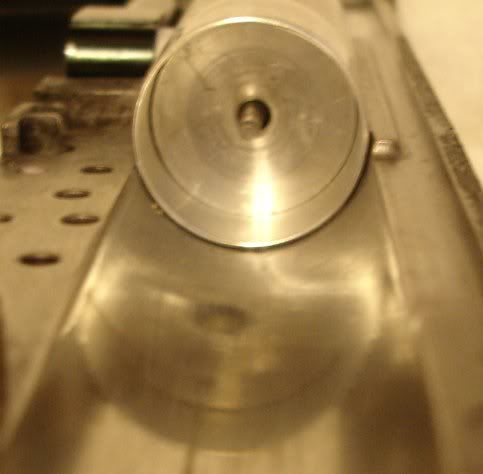 Slight update 8/13/07