Discussion Starter
•
#1
•
Sunday December 9th - Big Charity Event -ASG - In Colton, CA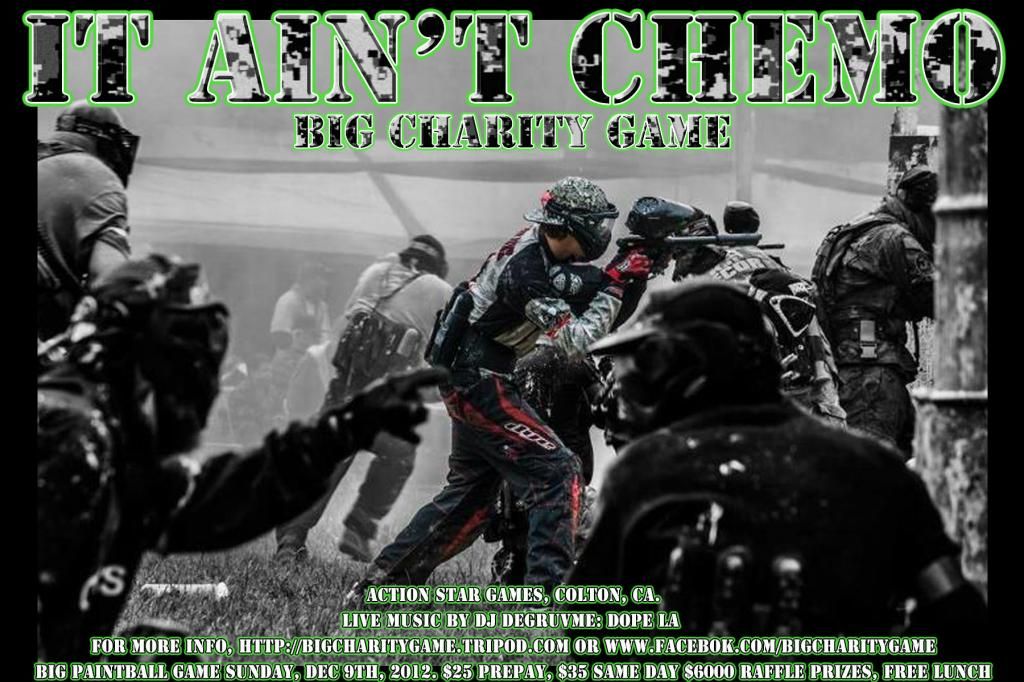 Sunday December 9th - ASG - In Colton, CA
We're happy to select
itaintchemo
to be our charity for event 1. It Ain't Chemo is an organization that provides cancer patients with comfort and care supplies, advice, and emotional support. Founded by firefighter and cancer survivor Kevin Hoyt, It Ain't Chemo raises awareness for its cause through the endorsements of local and national celebrities.
What's included in your big game ticket?
1) All day entry to the big charity game.
2) All day air
3) Combo Lunch - by Pop's Taco.
4) Cocconut drinks - by Zico, our official drink sponsor.
5) 1 Standard raffle ticket
6) 1 professional photo of you by Gary Baum at paintballphotography.com
Who'll be there?
1) All levels of paintballers. From entry level to advanced.
2) Sponsor booths,tents and trailers. Forgot something? Sponsor booths will be up for convenient shopping. Gun techs will be at booths for those pesky gun problems. Even though this is a BYOP (Bring your own paint) event, we'll have vendors selling paint at deep discounts for those who forgot paint or need more paint.
3) Special guests: MMA Fighter Gil Guardado
Pro Skaters from Vox Team
Professional Paintballers: Sonny Lopez and Kat Secor
Raffles and tons of prizes?
Prizes are: Lots of guns, gear, barrels, accessories, etc.
1) Standard raffles will be drawn throughout the event. Must be present to win. $1000+ in prizes will be given out for standard raffles.
2) Also another $5000+ in Special raffles will be drawn at the end of the event. Must be present to win.
3) Want more chances to win big prizes? Special raffle tickets are $5.
4) 100% of the raffle will go to the charity Itaintchemo.com
Prepay and save!
1) $25 if you pay by 11/24/12
2) $35 at the door
To pay
, either
go to
the website
Home
or click on the link on the bottom of our face book timeline or Here:
Rentals
: Add $15 per rental, no field paint only restrictions!
Raffle special (prepay only): $20 for 5 big raffle
Please indicate how many big game tickets, rentals (if you need any), and any extra raffles.
Please bring your receipt printout to the event to register. Registration starts at 8:30am.
Paint: It's BYOP (bring your own paint) or you can get paint at the booths from our sponsors.
APX Gear is selling
Agro Basic – Great for RecBall 2000balls- $30.00 Per Case
Agro Pro – Great Practice Paint/High-End Rec Paint 2000balls - $35.00 Per Case
Fyre – Competition Grade Paint 2000balls- $40.00 Per Case
Valken will also be selling paint at deep discounts and will contribute to the charity for each case they sell.
For every case they sell, they will donate $5 to the charity. Please state in comments if you'd need paint and what type so they'll know how much to bring to the event.
Cancellations:
We will
Play Raine or Shine
.
Should we cancel this event, we will refund everyone in FULL. If you cancel, you must cancel by 12/01/12 for a full refund. For any other situations, please submit reason why to
[email protected]
36 sponsors and counting!!

Current sponsors / hosts are
:
AC TActical
Action Star Games
APX Gear
Argo Motorsports
Azodin
Baccipaintball
Blitz Paintball
Broke Mexican
CCM: Chipley Machine
Destiny Army
DJ degruvme: Dope L.A.
Exotic Tan LA
Extreme Pros
Flo's Flower and Paintball
Fullclip
Greghastings R7
Hundredth Monkey
It aint chemo
LA Hitmen
MacDev
MAG: Military Assualt Gear
Paintball Gateway
Paintballphotography
Perfect Skateboards
Pop's Taco
Rap 4
Rhino Tech USA
RTI: Recreational Tank International
Steelflame
Those Pump Guyz
Ultimate Paintball Wars
Unity Paintball
UWL: Ultimate Woodsball League
Valken
Victory Outreach
Voxfootwearinc
Zico
FaceBook Page
FaceBook Event Page