Discussion Starter
•
#1
•
I've been out of the Paintball scene for approximately 2 years (give or take) & I've got markers & gear to get rid of. Bare with me here, I am going to list it all. If you have any questions, or want to make a different offer, please feel free to email me at my wife's e-mail:
[email protected]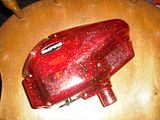 Empire Halo B - New in Red, Missing screw that holds battery cover on but a small screw will work. Powers on and rotates balls. Asking $30 OBO.
WGP 2003 Autococker in Red. Semi-Auto 2 barrels, 12" & 15" maybe.. you can see the diff.
Headbands... all for $10.
Gloves... all for $5.
WGP Karnivor. Red/Yellow. Indoor gun unless grips are replaced. Only used once and it was outside so it messed with the eye and wouldn't shoot. Gun is in awesome condition. Brand new looking other than where the tape left sticky on the gripper to hide gun light. It comes with barrel cover. Ashling $225. OBO.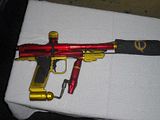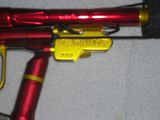 13 Pods. A pod pack & 500 balls, still in great condition. Pod pack could be washed. $25. OBO.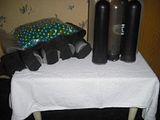 Masks: From left to ride there is a JT, Empore & VForce. All wore worn often but very well taken care of. Apparently our colors were Yellow as you can see. I played in the CTS in 2006/2007. I am asking $30 each OBO.
Give me a shout at my wife's email:
[email protected]
.
I am in the Louisville Kentucky area. We can arrange pickup for locals. Or we can ship. We have a paypal account. If you have questions, send an email and we'll get back to you .. also, OBO send to that email as well.