PMS Beast --- $30
Story: I picked this gun up aroudn the end of last summer. Never shot it, it seems very old.
Specs:
PMS Beast
Original Brass elbow
ammo box
12 gram changer
(only picture I have at the moment with some "custom work" done using some tape and a toilet paper roll.)
The New York Style Phantom --- $275
Story: I got this gun 2-3 weeks ago. Set it up hawaiian style and couldn't relaly get the feel for it. I have not shot this gun either.
Specs:
New York Style Phantom
Brass eagle 12 gram changer
Undercocking
16" stock barrel
Trigger shoe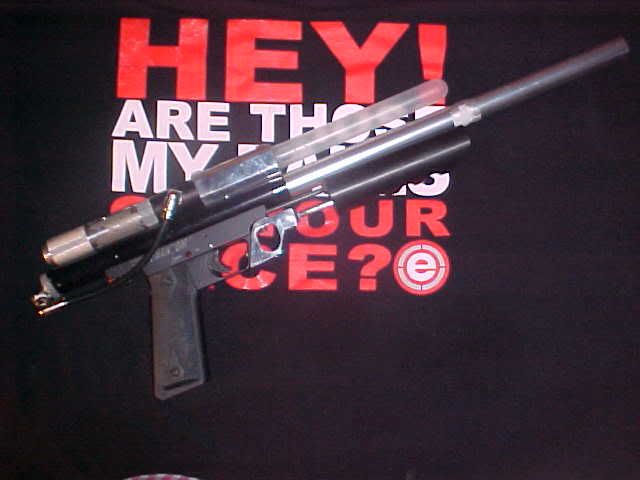 90* Pneumatic Assist Phantom --- ???
Story: I bought this gun from rainman229. It is the msot amazing phantom that I've ever shot. The pump stroke is great and the gun is great overall. I relaly don't want tos ell unless I get the right price jsut because its pretty much one of a kind.
Specs:
Right Feed Back Bottle Phantom
16" stock barrel
Custom Undercocking
BElsales 3-way (or thats what rainman said)
Humphrey ram
QEVs
Autococker LPR
Trigger shoe
Custom 90* frame
Custom 90* aluminum grips
(12g changer not inculded)
If you have any more questions about any of the guns feel free to PM me.
Xbox Games:
All games are used but If they are bought I will use the Disc DR. on them before shipping.
1. Star Wars Knights Of The Old Republic --- $15
2. Star Wars Knights Of The Old Republic II: The Sith Lords ---$18
3. Murakumo: Renegade Mech Pursuit --- Free with purchase of any game (act fast)
4. MECHASSAULT --- $10
5. True Crime: Streets of LA --- $17
6. Apex Racing --- $15
7. The Lord Of The Rings: Return Of The King --- $20
8. Need For Speed Underground --- $10
9. Lego Star Wars (funnest game ever) --- $15
10. Unreal II: The Awakening --- $15
11. Fable --- $23
12. Blooder Roar Extreme --- $15
13. Tony Hawk's Underground 2 --- $20
14. Brute Force --- $18
15. Tom Clancy's Rainbow Six 3, comes with headsets that allows you to contrl your team --- $40
16. Tom Clancy's Splinter Cell: Chaos Theory --- $25
BUY ANY 2 GAMES AND RECIEVE A 3RD GAME FOR FREE OF LESSER OR EQUAL PRICE OF THE CHEAPEST GAME YOU BOUGHT!!!!!
$175 TAKES ALL XBOX GAMES!!!!
I also have a wide variety of movie on dvd AND vhs. let me know of a movie you're interested in and i will see if I have it.
I also have about 115 knives that will be for sale. I will list them when I have some time later on tonight or tomorrow.
ONLY TRADES I WOULD BE INTERESTED IN:
An older grey ghost
Carter
XSV EGO
EGO
SL66 EGO
EGO
WARPED SPORTZ DARK EGO
WARPED SPORTZ DARK EGO
---will trade everything for a warped sports dark ego + reloader B---
Contact:
Pm me any offers, all prices can change
Email:
[email protected]
AIM: jonjon9289
I HAVE TONS MORE TO LIST SO KEEP WATCHIN TEH THREAD IN THE NEXT FEW DAYS. I WILL BE GONE SUNDAY-TUESDAY OF NEXT WEEK SO IF YOU ARE TRYING TO GET AHOLD OF ME PLEASE WAIT AND BE PATIENT.
PICTURES ARE COMING TONIGHT OR TOMORROW.
I just need to charge up my camera and I can have teh pictures
Feel free to ask for Specific Pictures of anything.