Discussion Starter
•
#1
•
I started out with a completely stock CCI VSC Phantom with an 11" barrel and adjustable t-stock. It was a great shooter when I started but it looked like every other silver/gray acid wash out there. I swapped out the normal vertical ASA for one attached to a Punishers Customs undercocking kit. The handle was nice and large and the pump stroke was a bit smoother. On the top of the feedtube I put a carbon fiber ghost ring, that's what started the chain of events that made this gun what it is today.
After I won a carbon fiber feedtube in an online raffle the slow transformation started. I picked up a graphite t-stock also made by Punisher and a pair of split grips from a guy who made them on the old PhOG (Phantom Owners Group). The loss of aluminum for graphite and carbon fiber certainly helped make an already light marker even lighter!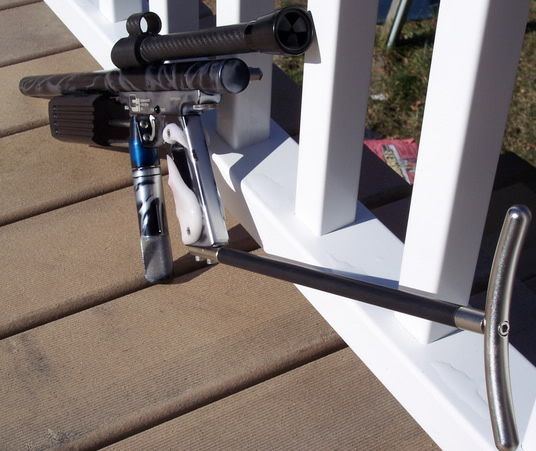 The downside of having a solid feed tube is you can't see how much paint you've shot if you lose count during a game.
So I got bold one day and drilled out holes in the CF with an inexpensive hand held drill press and then milled a slot in the feedblock as well. I also had the valve "bobbed" to increase efficiency when using 12 grams. The pump handle is missing and the old ASA is back on because I commissioned Punisher to make a custom pump handle for it.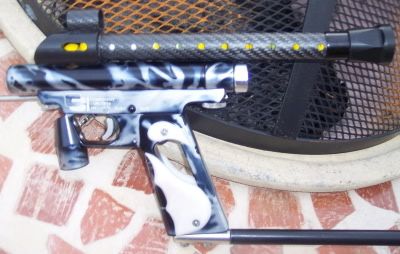 The old saying is that you never really "up" a phantom, you only accessorize them. The stock barrel is great and while a bit big works fantastically. Even with that knowledge I replaced the stock barrel for a different CCI barrel. CCI made 20 carbon fiber barrels with aluminum fronts and backs and it really helped with the look and continuing lightness of this gun!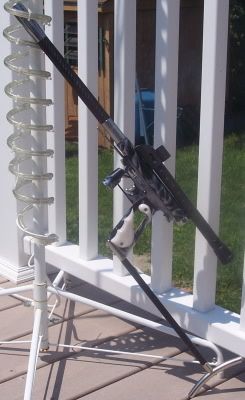 Punisher came through big time with the undercocking kit. I gave him free reign to do what he thought would work best with the gun and this is what he came up with.
The pump handle is ano'd to match aluminum and it has carbon fiber panels inlaid to match the carbon fiber on the barrel, feed, ghost ring and grips. The grips were made by another member of the PhOG and while a bit thin are just too cool to give up. As for the barrel, it is a one of three Deadly Wind Carbon Fibur barrel made for phantoms. A Houston airsmith talked Colin from DW into making them for him and two of his friends. I was able to get mine off of one of the two friends. It's amazingly light and quiet and takes freak inserts as well which really helps when I use 12 grams!