Sly profit
BASE $80.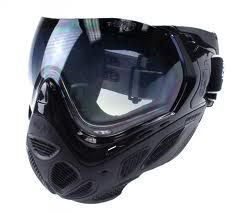 From what I've understood they have been a good mask to those who have bought them, slightly low on the forehead which leaves more of your head exposed but the lens gives good vision and is easy to change, these have 2 straps on them, 1 goes higher on your head, 1 goes lower which offers a better hold than a single strap, one complaint a lot of people seem to have with these is it is harder to hear and yell with them on other a lot of other masks out there.
Sly/Valken MI-7
BASE $37.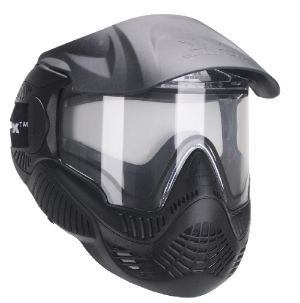 It seems this mask is sold under both Sly and Valken as of now. But from what it is, it is a true thermal lens mask in a budget package. I have never seen this mask in person so you you have one PLEASE send me a PM to give me your impressions of it. On the outside it seems like a decent deal but I would expect to find some rather cheap and uncomfortable foam in a mask this cheap. One note on this mask, if you are interested in it be SURE to get the MI-7, they also make the MI-5 which looks very similar but does not have a thermal lens in it. For the price, I would take a Helix thermal over this mask.
NOTE ON V FORCE MASKS
: All V-force masks have a single pane lens, in every model except for the armor this is a thermo-cured lens, and while it is not quite as good as a true duel pane thermal lens, they do a pretty good job at keeping the mask from fogging. V-force has recently released true duel pane thermal lenses for their masks that can be purchased for the masks separately for around $25-$35 depending on what you want
Special thanks to TLMiller for putting the V-force section together.
V-Force Armor
~$25. The low end. Comes normally with non-thermal lenses. There are now dual-pane thermal lenses available for them. To be avoided unless you have a small head, and the thermal lenses are heavily suggested.

V-force Profiler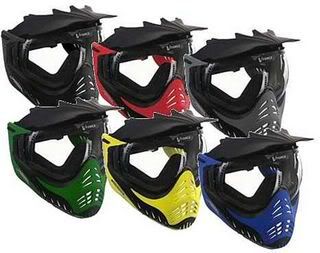 ~$65. Comes with thermo-cured lenses default, dual-pane lenses are now available. Great field of vision, and fits well.
V-Force Grill
~$100. (5/13/17 many of these are now coming with an additional thermal lens, may be limited time offer) Comes with thermo-cured lenses by default, dual-pane lenses are now available. Designed to last longer. Has quick change foam, easy out lenses, very comfortable. Good field of vision.
TANKS!​
it is important to know if you will be using HPA or CO2 before you decide on a marker, about half of the markers produced today are HPA only markers. Meaning, without modification these markers are not safe to use CO2 on as it will damage them.
ANY MARKER CURRENTLY MADE THAT CAN WORK ON CO2 CAN ALSO WORK ON HPA WITH NO MODIFICATION
There are no markers currently made that require the use of CO2
So, you're probably wondering what the difference is between HPA and CO2, there is another sticky in the new player section that explains that in better detail so I will not go into it but here are the basic highs and lows of each
CO2
+tanks are cheaper
+typically easier to find a place that can fill the tank
+more shots per volume than HPA (if you have an HPA tank and a CO2 tank that are the exact same size, the co2 tank will last longer)
+some tanks never need to be hydro tested (refer to hydro testing section on HPA tanks below)
- can not be used on all markers
- harder on o rings, you will have to replace o rings more often
- can not always be used in cold weather, cold effects how co2 tanks function and if it is cold enough (35 F or below) the tank will not be producing enough pressure to fire your marker
HPA
+ more consistent output pressure, means your shots will be coming out at closer to the same speed
+ no "spikes" in pressure like co2 can give you
+ can be used on any marker
+better for the life of o rings
+can be used in any weather
+arguably more accurate
-a comparable tank is usually 5x the cost of a co2 tank
-fills are harder to come by (no your compressor in the garage at home cannot fill these tanks)
-tanks must be hydro tested every 3 or 5 years (most tanks are 5 year hydros now)
Hydro testing- your probably wondering what this is, well in a nutshell to ensure your tank is safe and will not blow up in your face it needs to be tested every once in a while. If I have a 4500 psi HPA tank that needs to be tested, I find somewhere that can do it (paintball shops usually send them out, scuba shops sometimes do and sometimes do them in house) they will charge me around $30-$35 and it will be about a week until I see my tank again. What happens is the regulator is taken off of the tank(most scuba shops require you to do this before bringing it in, paintball shops will typically do it for you) and they fill the tank with water then put 150% of its normal pressure in it (6000psi for my 4500psi tank) after this they measure how much the tank has expanded and if it is still safe, put a new hydro date on it and send it back to me. If it is not safe they drill a hole in the side of it and throw it away.
So in the long run (and even short run) a HPA tank is going to do better for you but in order to get a good one new you are looking at about $130 minimum. While you can get tanks for as little as $50 they are just not worth it because they will be heavier and carry very very few shots compared to their larger cosines. I do not recommend getting a small 3000psi HPA tank ever.
Unless the only places around you that can fill can only fill to 3000psi, a 3k tank should be avoided. This may sound strange because they are typically cheaper but you are paying a lot of money for a tank and the 4500psi tanks will be lighter and carry 20% more air than their 3k counterparts. 4500psi tanks have to be fiber wrapped to hold the pressure whereas 3000psi tanks can be made of aluminum. Aluminum is a lot cheaper but also a lot heavier than the fiber wrap. I cannot tell you the number of people who have ignored my advise on this, bought a 3000psi tank and then 2 months later are on here saying "I should have listened to Trbo and gotten a 4500psi tank"
So finding a tank comes down to your budget more than anything. A 20oz co2 tank will run you around $20-$25 ($35 for a super nice one with a fill meter on the side) and on most entry level markers will get you around 1000-1200 shots. This is a great way to get into the sport on a budget and get your setup running.
Want to make your CO2 tank better?
Sometimes its cold and co2 does not want to work, or your marker can fire fast enough that you are sucking liquid co2 into your marker (bad news) one of the ways to help prevent this is to have whats called an anti-siphon tube (AS tube) installed by your local shop ($20-$25 usually) DO NOT EVER INSTALL THESE ON YOUR OWN, BOTH OF THE DEATHS IN OUR SPORT CAME FROM WHEN SOMEONE INSTALLED THESE THEMSELVES AND DID IT WRONG you cannot buy a tank that has a AS tube already in it as they must be installed so the tank is matched to the marker. Once installed the tube will prevent a lot of liquid co2 from entering your marker. They are not a 100% failsafe against it which is why you still can not use co2 on a lot of markers but they do help.
But what if you have a little more money?
Well your probably looking at HPA tanks then. One thing I have to mention about HPA tanks. It is possible to buy a tank that will not work with your marker. The vast majority of entry level markers will require a high pressure input (around 750-900 psi, same as CO2) but HPA tanks, since they have regulators can be bought with other output pressures on them to be used on markers that may run better, or require a lower input pressure. Low pressure HPA tanks are rare but they are out there. Know before buying.
Well as for hpa tanks, a 68ci/4500psi tank can typically be found used with at least a few years of hydro left on it for around $100. The 68/45 is seen as a standard size tank in the industry, if you are ever in question about which size HPA tank to get, find a 68/45.
Don't want used you say? This is where your options really open up but you will need around $130-$170
There are LOTS of well made tanks to choose from, since prices are very similar I suggest buying a made in the USA tank (if you are in the US that is) brands that make tanks in the USA are
CP (custom products)
Ninja air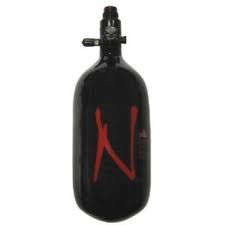 Crossfire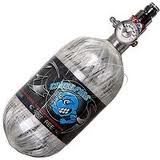 Out of which I now own 2 ninja tanks and can tell you from experience they are EXTREMELY well made. For the same price as other companies want you get a longer warranty and can get a tank with an adjustable regulator (tank can be adjusted to 4 different pre-set output pressures) but any one of the above brands makes excellent products. Take your pick, shop around