UPDATE: Everything updated, checked over prices, added new masks, hoppers and markers and cleaned out some old ones. As always, if you feel something is wrong or needs adjusting or adding, send me a PM. This now takes up 39 pages in a word document, have a nice read!
Alright so we get a lot of new player questions on here asking which marker to look into or which this and which that to get for new players so I figured I would put together something to answer some of the basic questions. This is not an all questions answered guide but should at least get you going in the right direction if you are new to the sport and looking for equipment.
The first thing a new player looks for in paintball is the marker (gun) but it is actually more important to find a few other things first. If you already have a tank and mask then skip down to the markers. If you do not I highly suggest you read over this very important information first. You may be temped to find a package deal that has everything you need in it, and while these do exist they have some major drawbacks. In my years of paintball I have only found a few of these packages that actually have good gear in them. What they tend to do is give you the marker you want, and then the rest of the equipment is bottom of the barrel crap that you will eventually replace. So for the most part, avoid them and put together your own package. You will spend less money in the long run and not have to deal with crap equipment.
The mask, it is by far and large, the MOST IMPORTANT PIECE OF EQUIPMENT you can buy. Not only is it keeping your eyes intact and protected but a crappy one will ruin your day of play. There are two basic categories of masks and they both refer to the lens. There are single pane lenses and there are double pane lenses (called a "thermal lens" ) To make a long story short let's just say single pane lenses are crappy and will fog on you, it does not matter if they have a anti-fog coating, they will still never be as good as a thermal lens. You want to find a thermal lens mask, these are very hard to fog up and will just make your day of play better overall. That said the other important factor to consider is the fit. Since my face is a different shape than your face, a mask that fits me correctly may not work for you the same way.
The best way to shop for a mask is at a local shop, try on everything with a thermal lens and buy the one that fits you best. If you try a mask on and you cannot tighten it down enough to the point that when you shake your head around very hard it can stay on, then the mask does not fit you properly. If there are gaps between your face and the foam padding, then it does not fit you properly. Basically you want a mask that can tighten down on your face enough that it will not move around and will give you enough protection (the neck is where a lot of masks will not cover enough of if they are too small or short for you)
So if trying on in person is not an option and you must order a mask online or if you're just looking at whats out there here are a few options
MASKS AND BRANDS TO AVOID!
a short list of masks and brands that I would never intentionally walk out onto a paintball field wearing, while all of these masks must be ASTM safety tested to be sold as a paintball mask, so must also a Chevy Cobalt be crash tested, just because it passes the minimum standards does not mean there are no better options out there

Brands:
Kingmann / Spyder
everything they make is garbage

Tippmann / US army
while their quality has been going up it is still not to the point that I would recommend their masks

Extreme Range
use it as target practice, not to keep you safe

Gen X Global
probably some of the worst masks I have ever seen, fields wont even use these for rental players

Scott
scott used to make paintball masks about 10 years ago and has started up again.....with what looks like the same masks, they are terrible

GI Milsim
out of my list of terrible masks, this is probably the "best" one, but owning the best ugly dog is not really a prize you want to win


​
First, a family of masks (side note: the e-vents, avatar and helix are sometimes all referred to as the "Vents" but they are different masks! know which one you are looking at!)
Empire E-flex
, BASE $90
This is an old idea with a new twist. The old JT pro-flex (which are still available) had a lasting reputation as a very customizable mask, you could take them apart and swap out parts depending on your needs. well empire decided to take this idea into the new age of masks and has come out with the E-flex. Essentially it is the e-vents with removable and changeable parts as much as you would like, this also enables you to modify sections of your mask (like the lower sections for a certain look or to fit your body better) and be able to have different lower sections for different occasions. One of the other factors that made the pro-flex masks so popular is right in the name, the flex of the lower section of the mask enables more bounces than a harder mask. A few downfalls: like the other empire masks, these still use the small locking tabs to secure the mask in place. These are rather small parts that are fairly easy to lose. The lowers sit rather far from some people's faces which can cause some muffling effects when you are trying to talk. Another great idea for all you pro-flex owners out there, the lower sections are changeable with the original proflex lowers! the e-flex loweres are reportedly a smaller and thinner profile than the original proflex lowers so if you have a larger face you can also pick up a set of proflex lowers that have a bit more space in them. the price makes them not super friendly on a new budget but if you get one of the other empire masks then the e-flex will always be an upgrade option since you can use the same lenses. My father in law uses these and absolutely loves them, he is a heavy sweater and has had no fogging issues at all
Empire e-vents
, BASE $70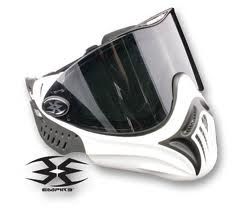 duel layer foam (very comfy) and all the bells and whistles including removable ear guards I own 2 pairs of these and have loved them, been very durable for me and parts are easy to find

Invert helix thermal
BASE $30
(do NOT get the non-thermal version of this mask, it will be missing the "thermal" in the name) again, this mask uses the same lens as the e-vents, e-flex and avatar so your field of vision will not be compromised at all. This mask uses an even cheaper frame and the foam is very durable but not very comfortable. For this reason if your budget allows I suggest going with the avatar. However, because this mask uses the same lens, if you use it for a while, buy a few different lenses and then decide to upgrade to the e-flex or e-vents, all the lenses can be used on those masks as well. This mask will also work with replacement foam for the e-vents mask to make it much more comfortable, it requires some elbow grease to install but makes a much more comfortable mask for $15
Proto Switch FS Thermal
BASE $70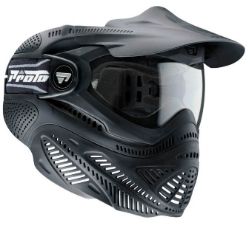 (DO NOT GET THE NON-THERMAL VERSION OF THIS MASK, typically known as the "EL") a little large and heavy and field of vision is a little narrow. for the price I feel there are better options out there but this is not a terrible choice which is why I am leaving it on here.
JT proflex
BASE $90 (now known as the "spectra proflex")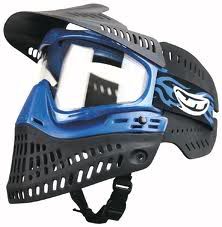 this is one of the most widely known, and customizable masks in the industry, you can buy pieces of this mask and put it all together yourself, mix and match colors and customize the mask as you see fit. I personally do not have any experience with this mask but I know people who swear up down and sideways by it. It appears that all spectra proflexes now come with thermal lenses. A good mask that has stood the test of time.
Dye I4
BASE $109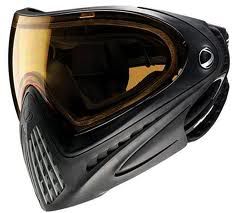 I own one of these, I love them, easy to change lens, easy to adjust, easy to clean. Very comfortable to wear all day long. These do have a short lower section so more of your neck is left exposed. It's up to you if this is an issue or not
Save Phace masks
BASE $55-$80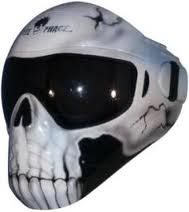 these masks are more about the look than anything. For the money there are more comfortable, lighter and more usable masks out there but if the look is super important to you, take a look at what they have
WARNING!!!! Save Phace now makes masks that are NOT designed for paintball use but they are not very clear about saying they are not designed for it!!! DO NOT TAKE CHANCES ON YOUR SAFETY Having a mask that "looks cool" is not worth an eyeball, in all honesty i suggest players avoid save phace all together