Discussion Starter
·
#1
·
My collection started from nothing and has grown to this. Now due to financial issues, I need to sell some of my prized possessions. Everything is in great condition, because I take care of my things. Here is what is left of my collection.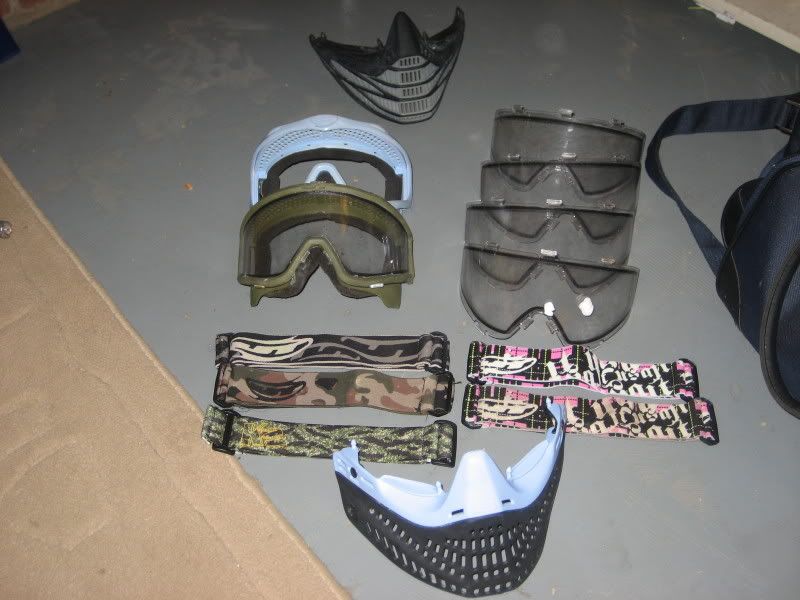 Frames/Lens~:30-65:
Lens are interchangeable, just ask.
OG Steel Frames ~ Smoke Tint Lens
Clear Frames ~ No Lens
Black Frames ~ Smoke Lens
White EPS Frames ~ Smoke Lens
White HB ~ Yellow Lens
Bottoms:~:30-45:
Hb Baby Blue Bottoms
Red Proflex bottoms
Grey Flex8 Bottoms
Cut Grey Flex8 Bottoms
Straps:~:25-150:
Green 4Line
Confetti
Black 4 Line
Retro American
Red Bubble
Orange Bubble
Punk Rawk
Gray Racing
White Techno
Rising Sun
Only 1 Know in Existence Digi Racing
Blue Whippersnapper
Woodland Camo
American
ProStrap
Red Plaid
Softears:~:7-12:
1 Black Pair
5 Ripped Black Pair
2 Pairs of EXTRA Softear Hardware
Extra Lens:~:10-15:
More Pictures will be provided upon request. All of my items are great condition, as I take care of my things.
Rules:
If you post/pm/aim me, you must be mature.
I will not ship first (My 125 Feedback Speaks for itself).
You pay for shipping.
I will accept:
Paypal ~ You add 3% Fees
MO/Personal Check ~ There will be an 10 day waiting period for it to clear
Prices: ~ Posted, but they are OBO.
Trades: ~ I will be extremely picky, but feel free to offer.
If you have a PBN account please post here
Ultimate Flex Sale~ Confetti/Retro/4Line/RisingSun/Techno/Bubbles/HB/EPS + Misc Parts - PbNation